DevJET Documentation Generator is a standalone application which extracts XMLDoc comments from Delphi source files and produces professional help files, including web pages (html), CHM and Microsoft Help V2.0 files that could be integrated into RAD Studio Documentation (2005-XE2).
Here are some snapshots and online demos of the generated help files of the Spring4D project:
Web page (Online Demo: http://spring4d.org/help/)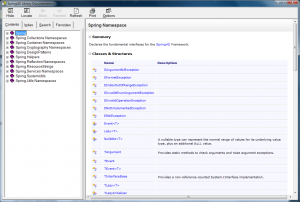 CHM file (Online demo: http://devjetsoftware.com/downloads/spring4d_chm.zip)
Notes: For security reason, you need to unblock the downloaded chm file by right clicking the Properties of the file in Windows Explorer. See this snapshot:
MSHelp V2 file (Integrated with RAD Studio Documentation)
We have also created an online documentation for Nick Hodges' HtmlWriter project 🙂   http://devjetsoftware.com/htmlwriter/
Good News: The first public Beta is scheduled on August 15th, 2012 and you may now preorder the product by saving 30%.
Buy NOW  149 EUR  (99 EUR, Single Developer License)
Coupon Code: DocGen-SHOT
Due Date: August 1st, 2012
We provide 30 day no questions asked money back guarantee. You can get full refund for the first 30 days if our products can't meet your need. We use Share It! as our online order provider and we do not have access to your financial information.
P.S. We are going to support generating Help & Manual projects in later releases. If you have any questions or suggestions, please let us know.